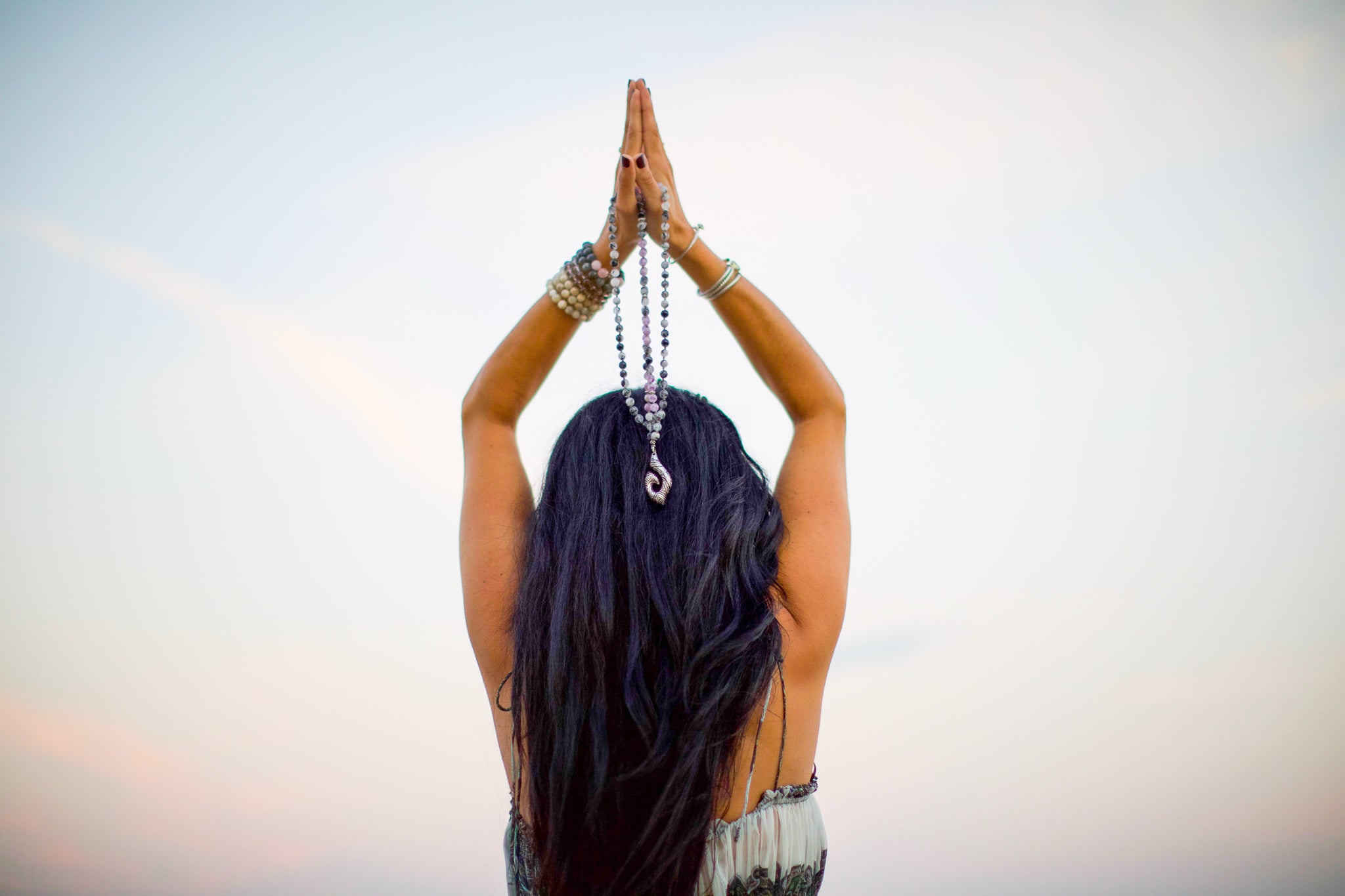 "I have tried to redefine malas with a refreshing emphasis on
meditation, breathing, and intentions
, all while upholding the belief that women are brilliant; and, that when we are united in breath,
we shine
."
- Dina,
Be The Light Malas
Creator
Frequently Asked Questions
Are your pieces made with real gemstones?

Yes! Our jewelry is carefully handcrafted with love, care, and positive intentions using genuine semi-precious gemstones, Swarovski crystals, sterling silver, gold-filled accents, and silk thread. We take pride in using high-quality materials in order to create a luxurious and elegant jewelry line.

What sizes do your pieces come in?

Bracelets are made on a high-quality stretchy cord, usually with a standard size of 7". Necklaces come in standard sizes of 16", 18", and 20" unless otherwise specified. Malas range between 18" to 23". For more details, please refer to each product description.

What is a Mala?

Mala means "garland" in Sanskrit. This string of prayer beads helps to focus one's awareness and concentration during meditation. The traditional Mala has 108 beads which represents the wholeness of the universe. Gemstones carry different healing properties and qualities. By wearing a healing crystal Mala with specific gemstones, you'll capture the power of the crystal to activate the inner healing and manifestation process.

How do I choose and activate my Mala?

There is no right or wrong way to choose your mala - the mala will choose you. You are attracted to your mala for a reason; it might be a healing aspect or a purpose… Once you choose your mala, set your intention and activate it by burning the sage enclosed. Light the sage and let the smoke billow over your mala, then set your intention. Your mala is now ready to serve its purpose.

How do I use my Mala?

During meditation, hold your mala in one hand. Start with the guru bead by holding it between your thumb and middle finger, then start moving your fingers along each bead and repeat your mantra. The index finger represents the ego, so try not to use it as you meditate. During a yoga class, you may also set your mala at the top of your mat to remind you of your intention throughout your practice.

What does a purchase of a Mala come with?

With every purchase of a Be The Light Mala, you will receive a keepsake pouch, a mini sage cone for activating your Mala, and a card that explains how to choose, activate, and use your Mala.

Do you have a return/exchange/repair policy?

We do not accept returns, exchanges, or refunds unless the item you purchased is defective. If you receive a defective item, you must please contact us at dina@bethelightmalas.com within the first 15 days of receiving it with details of the product and the defect, including an image of the defective item, and we will provide you with the address to send your item for inspection and repair. Upon receipt of the returned product, we will fully examine it and notify you via email, within a reasonable period of time, whether you are entitled to a refund or a replacement as a result of the defect. If you are entitled to a replacement or refund, we will replace the product or refund the purchase price, using the original method of payment.

How should I care for my Be The Light jewelry?

The best way to take care of your jewelry is to avoid swimming or showering with it. Avoid wearing it during physical activity or in any situation where the gemstones could become scratched or broken. The fact that our Malas are hand knotted on silk thread makes them quite durable, however, your Mala should always be handled with gentle care. While traveling or storing your Mala, you may place it in our keepsake pouch. To energetically cleanse your Mala, we recommend placing it at least once a month under the sun or full moon for 4 hours or more.

What should I do if I ever lose my mala or if it breaks?

In ancient tradition, on the rare occasion that a mala goes missing or breaks, it's said to symbolize that you've outgrown the intention associated with that piece. Therefore, you can bury it and return the stones to Mother Earth. It's also a great opportunity to set new intentions.

Can you make me a custom creation?

Custom mala orders are welcomed! Please contact us by filling out the form on our Custom Malas page. Please expect between 2-4 weeks delivery time.

Do you do wholesale orders?

Do you give back?

Yes, and you also have the chance to manifest good karma with us. Paying it forward is an essential part of our values. Please know that a portion of each purchase goes toward the American Lung Association.

Shipping Policy

Be The Light Malas jewelry is handcrafted and unique. All items are shipped from Florida. Please allow a minimum of 5 business days to receive your order. For custom orders, allow an additional 5-10 business days.

Lost or Damaged Mail: Be The Light Malas is not responsible for lost or damaged mail.

International Shipping: Be The Light Malas is not responsible for packages held up in customs or additional fees/duties applied by your government.

Shipping Rates

Domestic orders within the United States: We provide free standard shipping within the United States on all orders over $75 before taxes.

International Shipping: Your order ships for a flat rate of $25.